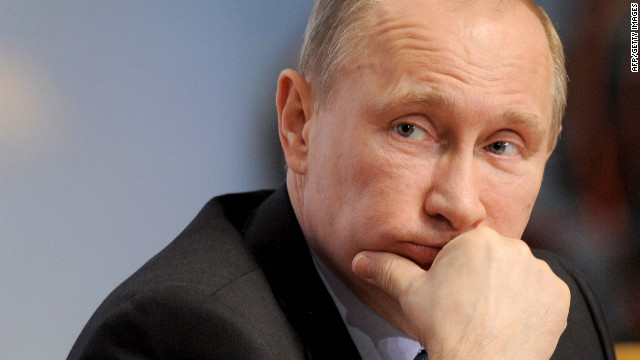 Published 23-12-2013, 18:23
Andrew C. Kuchins
Andrew C. Kuchins is a senior fellow and director of the CSIS Russia and Eurasia Program. He is an internationally known expert on Russian foreign and domestic policies who publishes widely and is frequently called on by business, government, media, and academic leaders for comment and consulting on Russian and Eurasian affairs. His more recent scholarship has been devoted to issues including U.S.-Russia relations and the "reset," Russia's Asia strategy, and the role of energy in the Russian Far East.
The eyes of the world will be trained on Russia when the Sochi Winter Olympics open on February 7. The Olympic Games have already attracted tremendous controversy over concerns about discriminating Russian LGBT legislation and massive corruption in preparing the games (which at an estimated cost of more than $50 billion are already the most expensive in history). In addition, there are political and security concerns about the site itself, which borders Georgian sovereign territory of Abkhazia, which Russia has recognized as independent since its five-day war with Georgia in 2008, and also borders the volatile North Caucasian republics of Russia.
Russian President Vladimir Putin views the Games as reflecting Russia's return as a great power since he first took office on December 31, 1999. But although he could possibly remain Russian leader for another ten years, until 2024, it is hard not to look at these Olympics in terms of his legacy.
In Putin's view, the Russian economy has recovered under his tenure, political stability has returned, and with it growing international respect for Russian power. In the view of his political opponents, however, Putin has been the lucky beneficiary of a rising and still high oil price that has been the principal driver of Russia's economic rise. Instead of focusing on structural economic reforms to improve the investment environment and broaden the foundation for sustainable economic growth, he has overseen Russia's ossification into a highly centralized kleptocracy focused on enriching himself and his cronies, but increasingly incapable of effectively governing the country. As for Russia's great power status, ultimately this will be compromised by mounting economic, demographic, and social problems coupled with a self-defeating policy of intimidation and economic coercion towards its neighbors.
More from GPS: How Russia fears being forgotten
Never in recent memory has an Olympic Games seemed to have so much riding on them for the leader of the host country. A major terrorist attack, for example, would shatter any illusions about Putin's historic mission to stabilize the North Caucasus after the humiliating first Chechen war in the 1990s, while any serious glitch with the recently built and outrageously expensive infrastructure will cast a dark shadow over Russia's already rickety reputation for governance and effective management. And then there is the danger of an over-reaction to any potential critical demonstration to Russian human rights deficiencies, i.e.towards the LGBT community.
Still, although there is so much potential for these Games going bad, let's assume they go well for the benefit of the athletes, spectators, and international sport at large. What can we expect from Russia in 2014?
First, we can assume continued stagnant economic growth of around 2 percent even with the oil price remaining in the neighborhood of $100. In fact, earlier this fall, the Economic Development and Trade Ministry predicted 2-2.5 percent growth for Russia to 2030 even under conditions of relatively high oil prices. This means Russia is underperforming the global outlook for growth by at least 1 percent. The consensus in the Russian economic community is that reforms to improve governance, increase transparency, and improve the investment environment can return Russia to 4-5 percent growth – more appropriate for an economy at its stage of development. Unfortunately the consensus in the political community is that Putin is reluctant to take these measures because they could threaten his political base. If the ineffectual Dmitri Medvedev is replaced by someone like Andrei Kudrin or German Gref – essentially a figure with more credibility as an economic reformer – we could see serious change.
With parliamentary elections not scheduled until 2016, and presidential elections until 2018, and with no clear opposition leader or even well-organized opposition, it is difficult to expect dramatic developments on the political front. Yes, the failure of Ukrainian President Yanukovych to manage the growing mobilization of opposition next door could strike a blow to Putin's authority. But by itself this would not likely lead to serious political instability in Russia. For that we would probably have to see a series of events such as regime change in Ukraine followed by a failed Sochi Olympics accompanied by dramatic fall in the oil price to below $60. Certainly, unexpected things can happen (and they often do in Russia), but I wouldn't assume that Vladimir Putin is leaving power anytime soon.
Like many political leaders facing very difficult domestic challenges and choices, we should expect Putin and his highly capable foreign minister, Sergei Lavrov, to attempt to build on recent success in foreign policy. The major coup for Russia in 2013 was the Syrian chemical weapons disarmament initiative that helped prevent a U.S. military strike, a move that brought at least tacit U.S. acknowledgement of the authority of the Bashar Al-Assad regime and contributed to a more positive environment for pursuit of nuclear talks with Iran. These events have also improved the climate in U.S-Russia relations after nearly two years of near free-fall.
If a complete breakthrough with Iran is achieved in 2014 and/or a broader peace and reconciliation process in Syria takes place (it's not clear which event is more unlikely), this will be very much down to the efforts of Barack Obama and Vladimir Putin. These would still likely not be transformative events for the U.S.-Russian relationship, but they would certainly create a shift in momentum.