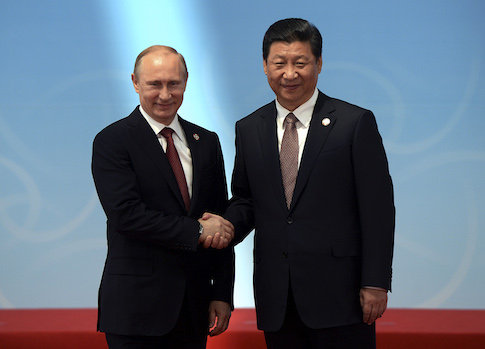 Published 29-01-2015, 03:00
Daniel Wiser
Daniel Wiser is a staff writer for the Washington Free Beacon. He graduated from UNC-Chapel Hill in May 2013, where he studied Journalism and Political Science and was the State & National Editor for The Daily Tar Heel. He hails from Waxhaw, N.C., and currently lives in Washington, D.C. His Twitter handle is @TheWiserChoice. His email address is wiser@freebeacon.com.
Beijing and Moscow move closer with deals that could undermine Western sanctions
China is providing an economic lifeline to Russia by boosting its imports of Russian oil, the Wall Street Journal reports.
Russia's economy has deteriorated with the recent drop in oil prices and levying of sanctions from the West in response to the Kremlin's destabilization of Ukraine. Moscow has now turned to Beijing for support despite their long-time rivalry:
But Chinese customs data released Friday show that China's crude imports from some big OPEC nations have plummeted, while imports from Russia surged 36% in 2014. Meanwhile, imports from Saudi Arabia fell 8% and those from Venezuela dropped 11%.

As American companies have pumped soaring amounts of oil from shale, U.S. imports of Saudi Arabia's crude oil and petroleum products have also fallen, dropping to 25.6 million barrels a month in October, from more than 42 million barrels a year earlier.

The changing pattern in China's imports is one result of Russian President Vladimir Putin turning to China as an economic lifeline as Moscow is shunned by the West over the Ukraine crisis.

That has tilted in China's favor the relationship between two countries that for decades have jousted for influence in Asia.
Additionally, Russian President Vladimir Putin secured a deal last May with Chinese President Xi Jinping for Russian natural gas exports to China worth hundreds of billions of dollars. Russian businessmen met almost exclusively with their Chinese counterparts at the Davos economic forum last week.
The budding Russian-Chinese relationship could undermine the United States and Europe's efforts to punish the Kremlin economically for its support of separatists in Ukraine.