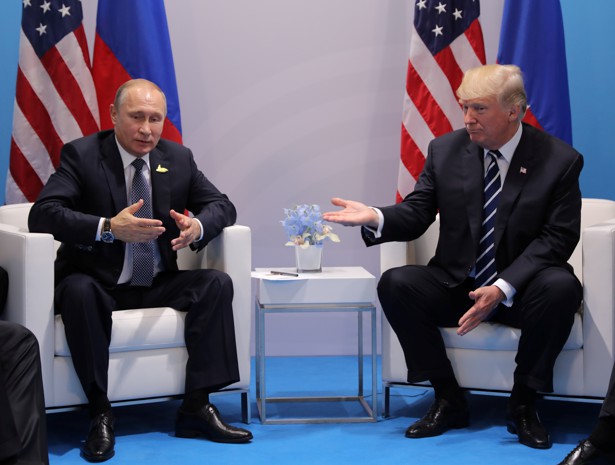 Published 23-07-2017, 00:07
J. Weston Phippen
J. Weston Phippen is a senior associate editor at The Atlantic, where he covers news.
The bill includes a modification that could block President Trump from easing sanctions on Moscow.
Congress reached an agreement Saturday on sanctions against Russia for its election-meddling and invasion of Crimea. The latest version of the bill also includes sanctions against Iran, North Korea, and gives Congress veto power that could block President Trump from easing any sanctions on Moscow.
The bill, which could be on Trump's desk before the August recess, will put his administration in a tough position. Trump has said he needs flexibility when negotiating with Russia, and he has come out against such sanctions. But because of the ongoing investigation into interactions between Russia and the Trump campaign, if the president were to veto the bill it would appear he is too close to President Vladimir Putin. With this bill, Congressional leaders hope to impress upon the Trump administration that it favors a hard line when it comes to dealing with Russia. The deal is scheduled to go up for a vote in the House on Tuesday. Senate leaders haven't yet said when they'd take it up, but it's expected to pass both chambers with strong support.
The Countering Iran's Destabilizing Activities Act received almost unanimous support last month in the Senate. But it stalled in the House for weeks as Republicans made modifications for energy and defense companies that said sanctions could hurt their business. The Trump administration had seized upon these complaints to try and shut the bill down, and it had lobbied hard to make changes, including the removal of Congress's power to review any changes made to sanctions. While it languished, Democrats accused Republicans of delaying the bill so as to help the White House. In the end, the agreed upon package had few modifications. It is aimed at punishing Russian not only for election-meddling, but also for human rights abuses, and ongoing military activity in Ukraine.
Maryland Senator Ben Cardin, a member of the Senate Foreign Relations Committee, said Saturday, "A nearly united Congress is poised to send President Putin a clear message on behalf of the American people and our allies, and we need President Trump to help us deliver that message."
While it took some time, the agreement was mostly hailed as a rare triumph of bipartisanship. Criticism was mostly limited to the addition of North Korean sanctions. House Democratic leader Nancy Pelosi said in a statement that "while we support the tougher sanctions on North Korea, which the House has already passed, I am concerned that adding them to this bill instead of standalone legislation will cause further procedural delays in the Senate."