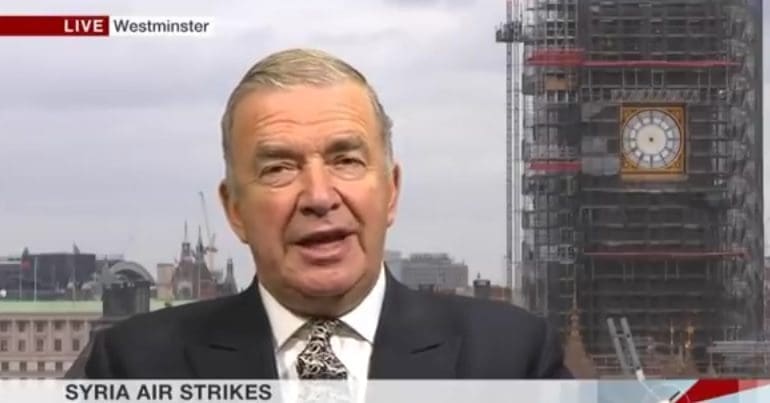 Published 20-04-2018, 12:31
Tracy Keeling
Tracy has worked mainly in education and theatre over the years. She has a wealth of experience in literary writing and, as such, has been struck by the mainstream media's ability to be as creative with their reporting as she is in her fiction. Tracy believes there is a near consensus in the current media narrative being delivered to the UK public, and that an alternative voice to this is undoubtedly needed. The Canary is offering this alternative, and she is very excited to be a part of it.

A former First Sea Lord of the British Navy has raised "alarm bells" about the UK government's Syria story. Alan West cast doubt on its claim that the Syrian government is responsible for an alleged chemical attack live on the BBC.
He warned that someone may have "duped" the British government.
"Alarm bells"
The BBC interviewed West, who is now a Labour peer, twice on 16 April. In his first appearance on Radio 4's Today programme, West said the notion that president Assad carried out the alleged attack "makes no sense". Because, he explained, Assad was on the verge of victory in Douma, where it reportedly happened. Until recently, the Saudi-backed rebel group Jaish al-Islam (Army of Islam) controlled the city.
West argued that allegations about an attack, and the typical western intervention resulting from it, would help the rebels though:
If I were advising the disparate group of Islamic opposition, I would be saying to them 'look, the thing to do now… when there is another attack on a crowded area, let's release chlorine… because this way we might get the allies to actually change the course of the war'
West also said rebel groups have "used chlorine in the past". And he asserted that people on the ground in Syria who claim the attack happened, such as the White Helmets, are "hardly neutral observers". So for West, this all rings "alarm bells".
"We've been duped"
The Labour peer later appeared on BBC News. On that programme, the BBC presenter put it to West that it would mean Britain, France, and the US had made a "massive blunder" bombing Syria if his assertions were true. He responded:
Well certainly, if that is the case, we've been duped. But these things happen in war… and I think we will learn a lesson from that because if it's done again we'll be a little more careful.
Meanwhile, one reporter has suggested that potential 'duping' could be more extreme than West suspects. The Independent's Robert Fisk has now visited Douma and says people told him no chemical attack happened at all. A number of commentators have, however, challenged Fisk's account.
Fools rush in
Increasingly, Theresa May's decision to bomb Syria looks unsound. Workers at one of the sites targeted in the bombing are also claiming it's not linked to Assad's alleged chemical weapon programmes. The US, however, claimed the strikes hit the "heart" of Assad's capabilities in such weaponry.
It appears that May joined the US and France in the military action largely on the basis of claims on social media, from those West says are not "neutral observers", rather than waiting for the results of a verifiable investigation.
But in May's rush to judgement, it's possible she may have been "duped". Given she's the UK's political authority, that should raise "alarm bells" for all of us.
Get Involved!
– Join The Canary if you appreciate the work we do.