Published 15-06-2018, 05:23
James George Jatras
Analyst, former U.S. diplomat and foreign policy adviser to the Senate GOP leadership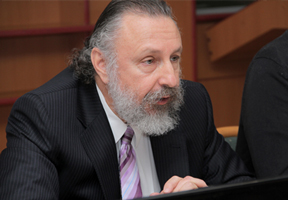 In any analysis of contemporary international politics it pays to be cautiously pessimistic. As the default mode one can generally expect that any way in which things can go wrong to threaten the peace and security of the planet, they will. Anticipation of improvement is a chump's bet.
That's why the analyst's gut instinct rebels at any indication that things overall may be moving in a positive direction, however haltingly or indirectly. But consider:
At the epicenter of each one of these earthshaking developments is one man: Donald Trump.
It would be inaccurate to say that these are even moves of the US government, of which Trump is only in partial control. With the permanent government – not to mention some of his own appointees – seeking to undermine him at every step, Trump seems to be resorting to the one tool he has at his personal disposal: disruption.
Let's remember that, especially in the Rust Belt states of Pennsylvania, Ohio, Michigan, and Wisconsin, those who voted for Trump wanted something radically different from business as usual. They voted for him because they wanted a bull in a china shop, a wrecking ball, a human hand grenade, a big "FU" to the system.
Maybe that's what we got.
To be sure, none of the foregoing itemized developments is dispositive. But taken together they point to a remarkable confluence of good omens, at least from the point of view of those who wanted to shake up, even shatter, the cozy arrangements that have guided the so-called "liberal global order."
But those whose careers and privileges, and in some cases their freedom and even lives, depend on perpetuating that order will not go gentle into that good night. They are getting nervous. This means in particular the elements of the US-UK special services, their Democratic and GOP Never-Trump fellow travelers, the Trump-hating fake news media, and the bureaucratic nonentities in Brussels (not only at the European Commission but at NATO headquarters).
If past is prologue, the Empire will strike back – hard and dirty.
One is reminded of the past seven years of war in Syria, where every time the US indicated a willingness to disengage, or when Syrian forces had made major military gains, then – BAM! – a chemical weapons attack immediately and without evidence is attributed to government forces, followed by renewed cries of "Assad is killing his own people! Assad must go!" (This is a ploy that goes back at least the Bosnian war of the 1990s. Every time a negotiated ceasefire seemed to be taking shape, another "Serb mortar attack" on civilians took place, leading to calls for NATO military action.)
The question is not "if" there will be a provocation, rather it's one of when, where and how. While it's difficult to make predictions, especially about the future, it's nonetheless possible to anticipate some possibilities:
Regarding the last item, assassination, it should always be kept in mind that in the end the man threatening to upset the applecart of the liberal global order isn't Putin – it's Trump. That suggests an ultimate solution that might become tempting if The Donald's continued functioning at higher than room temperature becomes just too much to endure.
As Joseph Stalin is reputed to have remarked, "Death solves all problems. No man, no problem." Trump, who for many powerful people is quite a problem indeed, has been recklessly compared to Jean-Marie Le Pen, Silvio Berlusconi, Vladimir Putin – even to Hitler and Mussolini. In an American context, to Andrew Jackson, Huey Long, and George Wallace. Let's note that each of those three Americans was the target of assassination. Jackson (someone Trump is known to admire) survived by a failure of his attacker's pistols, hailed by some at the time as miraculous. "The Kingfish" was killed. Wallace was crippled for life.
There is reason to think that Trump is well aware of the fate of the last American president who so threatened the habitual order of things and the entrenched, ruthless establishment that profits so mightily from it. He has repeatedly indicated his interest in releasing the full file on Jack Kennedy's assassination, then backed off from it for undisclosed reasons. The shooting death of the president's brother Robert Kennedy, who had he been elected president in 1968 would have had the opportunity to reopen the investigation into his brother's murder, is back in the news with Robert Kennedy, Jr., expressing doubt about the official conclusion that his father was killed by Sirhan Sirhan.
If anyone thinks there is any length to which Trump's enemies will not go, think again.