Published 1-03-2015, 15:00
WASHINGTON, DC: Russian icon maker, teacher and lecturer, Marina Forbes, will offer "The Art of Icon Painting" workshop atRussian Orthodox Cathedral of St. John the Baptist(4001 17thStreetNorthwest,Washington,DC)inWashington, DC.There will four 3-hour sessions onSaturday, March 21 from 4pm to 7pm; Sunday, March 22from 1:30pm to 4:30pm;Saturday, March 28 from 4pm to 7pm andSunday, March 29 from 4pm to 7pm.It is a hands-on studio workshop for students interested in learning how to create traditional Russian icons, one of the world's oldest and most respected forms of religious art.The program will include a detailed discussion and demonstration of traditional materials and methods of icon making. Then, under the direction of the instructor, students will create their own icons using a combination of traditional and contemporary materials and methods. Students will learn about board and painting surface preparation, gessoing, image rendering, pigments, brush strokes techniques, detailing, highlighting, gilding, Old Slavonic lettering, and varnishing.No painting experience is required for my Icon Painting class. Experienced artists will also feel very comfortable in my workshop.For more information, please contact Marina Forbes directly at(603) 332-2255, by e-mail at marina@anylanguage.orgor please visitMarinaForbes.com

The icon ofMother of God of Vladimir- wood, gesso, egg tempera, 23-k gold is by Marina Forbes.
Russian Matryoshka Nested Doll Painting
Storytelling and Hands-on Workshop with Marina Forbes, Russian Artist
Traditional Russian artist and lecturer, Marina Forbes, will offer a unique workshop on the rich Russian folk tradition of Matryoshka (wooden nested doll) painting. The workshop is scheduled at Russian Orthodox Cathedral of St. John the Baptist (4001 17thStreet Northwest, Washington, DC) in Washington, DC on Saturday, March 28th from 10am to 1pm and is open to adults, teens and families with children 6 and up. It is a great opportunity for adults and families to work together and learn about Russian crafts and culture. Participants will hear the story of the Matryoshka doll and will learn about her traditional Russian dress and customs. Traditional Russian painting techniques and floral and berry designs are also introduced. The goal is to produce a finished piece of Russian folk art on wood. Students can work on 7-piece, 5-piece, 3-piece or 1-piece matryoshka sets. Throughout the workshop, students will be listening to traditional Russian music, and, during a brief break from the painting, there will be a demonstration of a few steps from a traditional Russian "matryoshka dance."
To pre-register or for more information please contact Marina Forbes directly by phone at (603) 332-2255 or by e-mail at marina@anylanguage.org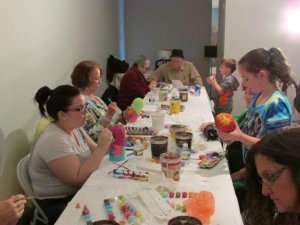 Thank you so much again and I'm looking forward to hearing from.