Published 19-01-2018, 00:00
Unconventional U.S.-Russia geopolitics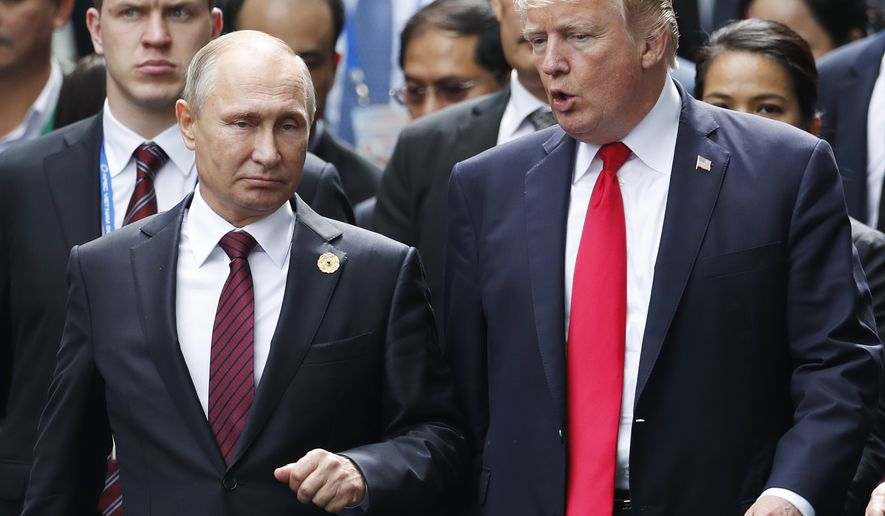 Photo by: Jorge Silva
In this Nov. 11, 2017 photo, U.S. President Donald Trump and Russia's President Vladimir Putin talk during the family photo session at the APEC Summit in Danang, Vietnam. Trump repeatedly declared in his presidential campaign that he would improve relations with Russia but was never specific. A year into his presidency, its no more clear. Moscow and Washington are at odds over issues ranging from North Korea to Ukraine, despite Trumps open admiration of Putin. (Jorge Silva/Pool Photo via AP, File)
Unconventional U.S.-Russia geopolitics
Those who follow statements from the U.S. foreign policy establishment and mainstream media often hear that the main reason for the current crisis in U.S.-Russian relations has little to do with conventional geopolitics. Rather, our problems with Moscow is its desire to "discredit democracy," as stated in the Trump administration's National Security Strategy released in December.
In addition, Senate Foreign Relations Committee Democrats, led by Ben Cardin of Maryland, recently issued a 200-page report accusing
It seems there is no one in the administration who actually agrees with the president on this critical matter. Mr. Trump evidently has little input into specific actions, leaving the job to his team of generals and neoconservatives.
The upshot is that relations between the only two powers capable of destroying not only each other but also the planet will continue to degrade.
Providing lethal weapons to Ukraine — which will entail American advisers on the ground near the conflict line in the Donbas — moves us closer to military confrontation.
We are nearing the abyss, and at this point it looks like no one knows how to avert the looming disaster or even wants to. The only acceptable outcome, it seems, is Moscow's capitulation on matters it deems vital national interests (certainly more vital than any genuine American interest in Ukraine and Syria) or, if our oh-so-democratic meddling goes well, regime change in Russia.
Neither will happen. What is likely, indeed almost certain if we continue down this path, are first a formalized Russia-China alliance and then, probably based on someone's miscalculation, a war the destructiveness of which is literally beyond our comprehension.
It's dangerously past time to admit that Trump is right and his critics on Capitol Hill and their collaborators in his administration are wrong. It's time to put America First, not only rhetorically but also in terms of policy. No more NATO expansion and provocative maneuvers on Russia's borders.
Let Europe worry about Ukraine and Crimea. The countries that are located in northwest Asia — Russia, China, Japan and South Korea — are capable of figuring out what to do about "Little Rocket Man" and his nukes.
For those who have dedicated their fat careers to the notion of a unipolar, U.S.-run world, it will come as an unpleasant wake-up call that Washington won't any longer decide the fate of every square inch of the planet. We've had our Monroe Doctrine for almost 200 years, yet we insist nobody else can have one.
Instead of continuing our cruise toward conflict, we need to cooperate with other major players, including Russia and China, on matters of common concern, of which there are many. But we'd better start very soon.
Edward Lozansky is president of the American University in Moscow, Professor of Moscow State and National Research Nuclear Universities. He is the author of the book "Operation Elbe", which describes joint US – Russia anti-terrorist efforts.