Published 4-06-2018, 05:37
Washington swamp forces and the risk of war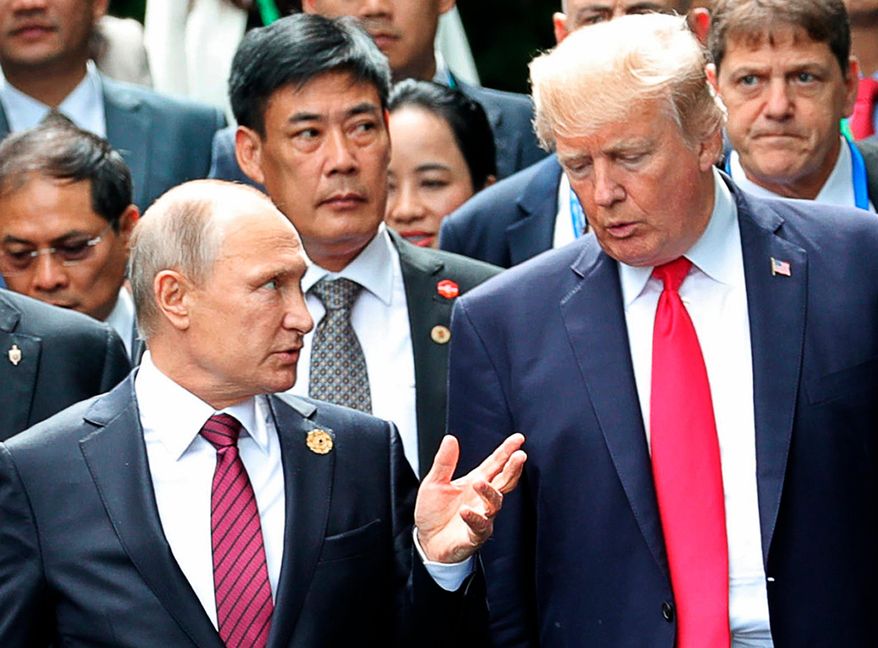 U.S. President Donald Trump (right) and Russia President Vladimir Putin talk during the family photo session at the APEC Summit in Danang on Nov. 11, 2017. (Mikhail Klimentyev, Sputnik, Kremlin Pool Photo via AP) **FILE**
Washington swamp forces and the risk of war
While the Trump-Kim summit is switching from on to off to on again, to many it may seem that under pressure from the Washington swamp and the media President Trump has effectively abandoned the idea of meeting with Vladimir Putin in the attempt to extricate both countries from the current mega-crisis.
Although Mr. Trump occasionally still tweets variations of his suggestion that only "haters and fools" do not understand that such an improvement would serve American interests, his administration's actual policies and the endless tightening of anti-Russia sanctions suggest that this is just an empty rhetoric.
As for the Kremlin folks, they see that their hope that Mr. Trump would follow through with his pre- and even post-election pledges to make a serious effort for U.S.-Russia rapprochement is running thin.
At the recent economic forum in St. Petersburg, Mr. Putin said that "Certainly, we cannot be content with the level and nature of Russian-US relations. Mr. Trump has suggested holding a separate meeting but many problems are emerging. Still we are ready to hold a detailed dialogue which is long overdue."
Those of us who believe that both the U.S. and Russia would benefit from improving relations still keep alive some feeble hope that a Trump-Putin summit might still take place in the near future.
However, there are powerful swamp forces for which their special interests take priority over American national security and they would rather risk World War III with Russia rather than endure a Trump presidency.
The more we know about the whole Russiagate and Spygate dramas that led to the appointment of special counsel Robert Mueller, the more we realize that they were the result of the conspiratorial activity by Barack Obama, Hillary Clinton and a circle of plotters within the deep state.
Applying simple logic and reasoning to the known facts one can conclude with high probability that to assure Hillary's victory in the 2016 elections a coordinated effort was undertaken to link Mr. Trump to Mr. Putin, simultaneously with a demonization campaign against the Russian president. This effort was reinforced tenfold after Hillary's unexpected loss. It still continues today.
Did the Russians try to influence the 2016 election? Perhaps, if you count a click bait farm in St. Petersburg monkeying around with stupid ads, most of which ran after the election. But such a claim is absolutely irrelevant for the following reasons.
First of all, there is no evidence that it was done on the order of the Kremlin or that this activity led to any change in the vote tallies.
Nor does it have anything to do with "collusion" accusations since foreign influence in other nations' elections is an almost routine practice by many countries — most of all by the United States.
I can testify as a witness of this influence when, in 1996, I was a part of the American delegation with former Vice President Dan Quayle and Congressman Ralph Hall, Texas Democrat, staying on the same Moscow hotel floor as the U.S. consulting team advising Russia's then-President Boris Yeltsin on his re-election bid. This was in addition to the $10 billion that the International Monetary Fund (IMF) gave Boris after the intense lobbying from Bill Clinton.
In contrast to the zero results of any Russian meddling in 2016, the American one in 1996 was very successful! Boris Yeltsin's ratings were in the single digits prior to the Yanks' rescue efforts but in the end they helped him to win the election — to a standing ovation from Washington.
Now that it looks like The Donald is turning tables on the swamp critters that hatched Russiagate, why not have a summit with Vladimir and work out a mutually acceptable and beneficial deal for both sides?
There is currently a petition on the White House site urging President Trump as follows:
"Ronald Reagan famously said: 'A nuclear war cannot be won and must never be fought. The only value in our two nations possessing nuclear weapons is to make sure they will never be used.' Unfortunately, today a new Cold War between the U.S. and Russia again poses an existential threat to the people of both nations and to the whole world. Therefore, we urge President Trump to follow in the steps of Ronald Reagan and start a direct dialogue with President Putin in search of solid and verified security arrangements. As President Trump said repeatedly "only haters and fools" do not understand that good U.S.- Russia relations are also good for America. By all indications President Putin feels the same way for his country. A summit should be arranged as soon as possible.
I am pleased to see that Mr. Trump keeps delivering on many of his campaign pledges. But I am also worried that his most important pledge, one paramount to our national security, has not materialized. Let's hope that changes — soon.
Edward Lozansky is president of the American University in Moscow, Professor of Moscow State and National Research Nuclear Universities. He is the author of the book "Operation Elbe", which describes joint US – Russia anti-terrorist efforts.